Zoom H1 Handheld Recorder
Product Code: DCPZOOMH1 | Ships To: World Wide Shipping Available
Out of stock
About this Product
---
The H1 Handy Recorder puts all its functions at your fingertips. No menus! Its backlit display features recording levels, file format, time elapsed, remaining battery life and recording time.
Its intuitive transport puts all the controls on the side with no menus on the screen. A large record button gives you complete control. Playback and pause, marker, forward and rewind buttons are all accessible by your thumb. Volume for playback and monitoring can be adjusted using your index finger.
On the back, you'll find a single AA battery compartment, a tripod mount, low cut filter, auto level setting and recording format selectable switches. There's also convenient mount for a strap or lanyard clip.
Key Features
---
Stereo X/Y mic configuration captures perfect stereo images
Same frequency and SPL handling as popular Zoom H2
Records Broadcast WAV (BWF) at 96kHz/48kHz/44.1kHz at 16-bit or 24-bit
Records MP3 from 48 to 320kbps for maximum recording time
Hi-Speed USB 2.0 port
Built-in reference speaker
Includes 2GB microSD memory card and one AA battery
One AA size battery allows 10 hours operation
Accommodates up to 32GB microSDHC memory cards
Track marker function
Low cut filter
Built-in tripod mount
1/8-inch external mic input
1/8-inch stereo line output
Auto record level
Optional accessory package (APH-1) includes windscreen, AC adapter (USB type), USB cable, adjustable tripod stand, padded shell case and mic clip adapter
System Requirements
---
Windows XP/Vista/7/8 and 10
Works on Mac OS X 10.4 to 10.11
Other Images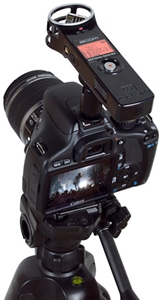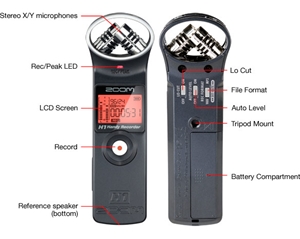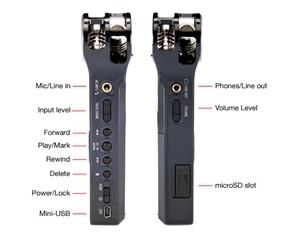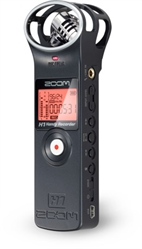 Our Price:

Only $99.95 USD

Product Currently Unavailable