Olympus WS-801SLV Recorder (2GB / 843 Hours)
Product Code: PDNTOL600S | Ships To: USA ONLY
Out of stock
About this Product
---
This easy-to-use handheld device lets you make high-quality voice recordings using the built-in stereo microphones, and stores up to 843 hours of recordings on the 2GB of built-in memory. Its USB plug allows you connect the recorder directly into the computer and transfer your files onto computer, and transcribe them using software such as Express Scribe Transcription software.
The WS-801SLV features a new 'Scene Select' mode, which allows you to optimize your voice recordings through preset environmental settings selected based upon surrounding conditions.
The 'Variable Control Voice Actuator' (VCVA) lets you record automatically only when sound is detected louder than a pre-set level, and will stop when the sound drops below the level.
The 'Index Marks' are digital tags that can be inserted while recording or during playback. These are used to skip forward or backward in recordings to pre-selected reference points.
The device supports multiple languages, giving you the choice of displaying the interface in English, French, Spanish or Portuguese.
With 51 hours of battery life (using Alkaline batteries, LP mode recording), you can focus your time on making great recordings, and not have to worry about the battery running out.
Key Features
---
2GB internal storage
843 hours voice recording time
Supports recording to MP3 and WMA formats
High-quality stereo microphones
51 hours of battery life (Alkaline batteries, LP mode recording)
Scene Select function
Playback speed control
Variable Control Voice Actuator (VCVA)
Index Marks
Interface displays in either English, French, Spanish or Portuguese
Large LCD for easy, quick viewing of file locations, recording status and battery life. The new font size setting allows you to adjust the character size to your needs.
Built-in USB port for direct connection to PC
2 x AAA alkaline battery included (can also use 2 x AAA NiMH rechargeable battery, not supplied)
System Requirements
---
Windows XP/Vista/7/8 and 10
Works on Mac OS X 10.4 to 10.11
Spare USB Port (if connecting device to computer)
No computer required for creating voice recordings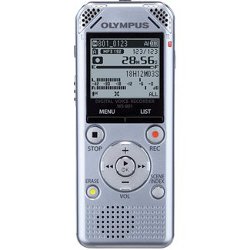 Our Price:

Only $79.95 USD

Product Currently Unavailable