Olympus DS-2500 Digital Voice Recorder
Product Code: PDNTOL2500 | Ships To: USA ONLY
Out of stock
About this Product
---
Whether you're recording lectures at school or meetings at work, the Olympus DS-2500 Digital Voice Recorder is a perfect choice for almost any professional or student who requires the benefits of a digital voice recorder and dictation device.
You can record using the DS2 (DSS Pro) format, which saves files in high-compression DSS format using the included DSS Player software. The recorder features push-button control, PC Link, voice activated recording and a backlit 1.74" LCD display. You can record in SP or QP modes, and you can easily switch between Conference and Dictation settings.
The DS-2500 records directly to an SD card and it supports cards up to 32GB. Plus, it features an internal mono microphone, built-in speaker, microphone jack and headphone jack. There's a USB interface for data transfers and an erase button for quickly erasing single files or entire folders. The recorder runs on two AAA NiMH rechargeable or alkaline batteries, which afford up to 37 hours of recording or 35 hours of playback. For added flexibility, the DS-2500 is even compatible with Windows and Mac OS.
Use with AltoEdge Transcription Foot Pedal Bundle for a complete Dictation & Transcription solution!
Key Features
---
Voice Actuator recording mode records only when sound is detected ensuring you're only recording what is needed
Capture superior audio files under any condition
Comes with 2GB SD card with support for SD cards from 512MB to 32GB
Intuitive, ergonomic push-button controls
Backlit LCD screen for consistent viewing, even in bright conditions
Directly connect to a PC for fast file transfers with convenient PC Link capability
Save files in high-compression DSS (DS2) format using the included DSS Player software
Use the easily accessible "Erase" button to quickly erase single files or entire folders
Switch between "Conference" and "Dictation" settings
Choose between SP and QP recording modes
Finish one dictation and begin the next with a push of the "new" button
Place index marks at specific points in passages for quick retrieval
Compatible with voice recognition software
Compact and lightweight design for easy portability
Up to 303 hours of recording time
Up to 37 hours of battery life
System Requirements
---
Windows XP/Vista/7/8 and 10
Works on Mac OS X 10.4 to 10.11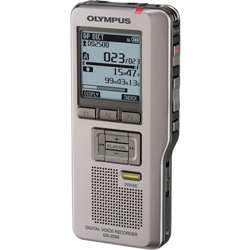 Our Price:

Only $299.95 USD

Product Currently Unavailable