Dragon NaturallySpeaking 11.0 Professional Upgrade
Product Code: SWDGNNSUPGD | Ships To: World Wide Shipping Available
Out of stock
About this Product
---
From Legal, Insurance, Finance to Education and Social Services industries, countless professionals rely on Dragon Professional to automate their PC computing processes to work faster and smarter. Use Windows applications to create documents, send email, search the Web, and more — just by talking. Customize the vocabulary and commands to reflect your terminology and workflow. Create macros to automate business processes. Use your iPhone or iPod as a wireless microphone or use Dragon with a digital voice recorder, anywhere, anytime for productivity on the go. Dragon Professional provides security features, configuration options and administrative tools for managing large user networks.
Key Features
---
What's New?

The new Dragon Remote Microphone application converts your iPhone, iPad or iPhone touch into a wireless microphone.
The minimum reading time required to train Dragon for use with a digital recorder was reduced from 15 to 4 minutes. The enrollment user interface now guides the user through a simplified, clear set of instructions to set-up Dragon for use with a portable device.
5% greater accuracy out of the box compared to Dragon 10.
Improved ability to learn from corrections of misrecognitions —whether the revisions are dictated or typed — to deliver continuous accuracy improvements over time.
Response times significantly faster than Dragon 10 for dictating, for selecting application menu items by voice, and for executing voice commands to perform application functions.
Enhanced editing and formatting capabilities enable you to make multiple selections, edits or formatting changes at one time for improved productivity and time savings.
More Dragon Voice Shortcuts are included to consolidate multiple mouse clicks and keystrokes into a single voice command.
New desktop and document navigation commands let you switch effortlessly between open windows by just saying the number of the selected window. Other commands make it simpler than ever to launch popular Windows programs on demand or to scroll up or down through pages of text within Microsoft Office 2003, 2007, and 2010 programs.
New Dragon Sidebar of commands makes it easier to discover and access important but often overlooked features, commands, and options.
Recognition analytics alert you where there is an audio issue so you can achieve the best accuracy.
Elimination of on-screen distraction enables you to focus more on your thoughts and ideas for better communication.
System Requirements
---
Windows XP/Vista/7/8 and 10
CPU: minimum 1 GHz Intel® Pentium® or equivalent AMD processor or 1.66 GHz Intel® Atom® processor. We recommend 1.8 GHz Intel Dual Core or equivalent AMD processor. (IMPORTANT: SSE2 instruction set required.) Processor Cache: minimum 512 KB. We recommend 2 MB Free hard disk space: 3.2 GB (2.8 GB for localized non-English versions.)
RAM: minimum 1 GB for Windows XP and Windows Vista, and 2 GB for Windows 7 and Windows Server 2003/2008. We recommend 2 GB RAM for Windows XP and Windows Vista, and 4 GB for Windows 7 and Windows Server 2003/2008 64-bit
Microsoft Internet Explorer 6 or higher (free download at www.microsoft.com)
DVD-ROM drive required for installation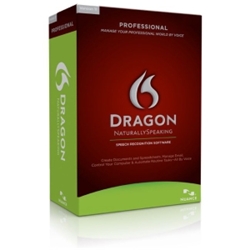 Our Price:

Only $299.95 USD

Product Currently Unavailable