Contour Shuttle Pro v2 USB Multimedia Controller
Product Code: PCSHTLEPRO | Ships To: World Wide Shipping Available
About this Product
---
The ShuttlePRO v2features 15 programmable buttons, an alloy jogknob and a spring loaded shuttle wheel. While It comes pre-configured for many leading audio and video editing applications, it can easily be programmed for any application with keyboard shortcuts,creating endless possibilities.
As well as being essential for Audio/Video Editing, the ShuttlePRO v2 has found use in Gaming, Photography, Security, Coaching, CNC Manufacturing, Ham Radio, Graphic Design, CAD and many other industries. With the Shuttle in one hand and your mouse in the other you can tackle the toughest projects with ease.You can also use the jog & shuttle knob for many other purposes such as scrolling, volume control, and sequencing.
Works with software such as VideoPad Video Editing Software, WavePad Audio Editing Software, MixPad Audio File Mixer, and Zulu DJ Software.
Key Features
---
Mac
Apple Computer with a G3, G4, G5, or Intel processor running Mac OS 8.6 through 10.6
System Requirements
---
Windows XP/Vista/7/8 and 10
Works on Mac OS X 10.4 to 10.11
1 Available USB Port
10 MB of available hard drive space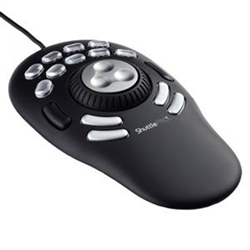 Our Price:

Only $89.95 USD