Contour ShuttleXpress Multimedia Controller + VideoPad by NCH Software
Product Code: CONTRLRBUNDLE1 | Ships To: World Wide Shipping Available
Out of stock
About this Product
---
It doesn't matter whether your workspace is less than optimal or you're a traveling professional without a desk. Everyone needs to get work done, no matter their environment. Enter the Contour ShuttleXpress, a compact multimedia controller based off of the award winning ShuttlePRO.
A fraction of the size, the ShuttleXpress is still loaded with all the features that made its big brother such a success. Five oversized buttons line the front side of the Xpress, each pre-programmed to work with many of the most popular audio and video editing applications on the market. Atop the Shuttle sits a fully rotating jog knob positioned precisely in the center of a spring-loaded rubberized Shuttle wheel, each awaiting but a twist to assist with your projects. And backing it all is Contour's Shuttle software, constantly updated to maintain compatibility with the most current releases of applications and operating systems. So no matter where your Shuttle lands for work, you'll be ready, willing, and more than able.
You can also use the jog & shuttle knob for many other purposes such as scrolling, volume control, and sequencing.
With this Bundle you get the Shuttle Express multimedia controller plus a Masters License for VideoPad Video Editing Software
Key Features
---
Five (5) fully programmable buttons.
Super smooth jog knob for frame by frame navigation and control.
Spring-loaded and rubberized shuttle knob.
Comfortable, ergonomic shape and design.
Pre-configured for dozens of applications.
Monitors the application you are in and automatically switches settings.
Easily add/edit your own custom settings.
System Requirements
---
Windows XP/Vista/7/8 and 10
Works on Mac OS X 10.4 to 10.11
Spare USB port.
10MB free hard disk space.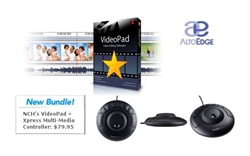 Our Price:

Only $79.95 USD

Product Currently Unavailable