Infinity USB Gaming Foot Pedal
Product Code: FPVECUSBG | Ships To: World Wide Shipping Available
Out of stock
About this Product
---
Getting an extra edge is easy!
First you must download the free Pedalware application
Next plug your foot controller into an available USB port
Then run Pedalware to custom configure your foot controller pedals
Finally, fire up your favorite computer game and take control of your destiny
Application Foot Controller by VEC
Gaming Foot Control
These high quality, rugged USB foot controllers connect to your Windows PC to control computer games and applications by mapping mouse clicks, key strokes or text to each of the 3 "pedal" controls - right, center, and left.
Whether you want to jump, run, fight, brake, accelerate, chat, pause, execute a macro, or even insert your favorite text or emotes into a text conversation over the internet, these foot controllers allow you to take control of your gaming and applications with your feet as well as your hands.
Pedalware
Free Gaming Foot Control Software
Pedalware will let you emulate keyboard and mouse functionality with a foot pedal, so that with a tap of your foot you can make a complicated command without delay.
This clever little piece of software can be used to control any software game or application on your computer, running in the background so it never gets in the way.
Of course, you can also program your foot controller to insert sentences or emotes that you frequently use during chat sessions with your friends, or use it to skip or replay songs with a press of your foot while your work, the uses are endless!
Key Features
---
USB Gaming Foot Controller
System Requirements
---
Windows XP/Vista/7/8 and 10
Works on Mac OS X 10.4 to 10.11
Spare USB port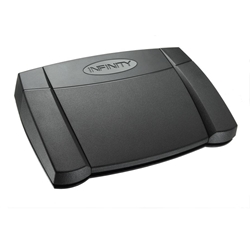 Our Price:

Only $69.95 USD

Product Currently Unavailable