Olympus VN-702 PC Digital Voice Recorder (2GB / 823 Hours)
Product Code: PDNTOL400S | Ships To: USA, Canada ONLY
Out of stock
About this Product
---
Olympus delivers an essential tool for students and teachers alike: the Olympus VN-702PC digital audio recorder. The VN-702PC records in MP3 format in addition to Windows Media Audio and features 2 GB of internal memory for up to 823 hours of recording time. The device is compatible with microSD memory cards up to 32GB, allowing even longer recording sessions. Its compact, ergonomic body fits comfortably in your hand and slides easily into a pocket. The VN-702 PC incorporates a PC Link, enabling users to transfer audio files to almost any PC/MAC using the included USB cable. The Olympus VN-702PC features VCVA, Voice-Activated Recording, which eliminates "dead air," creating seamless recordings ideal for transcription. Equipped with a large LCD screen, multiple recording modes and an extended battery life, the VN-702 PC is ideal for capturing lectures, interviews, random thoughts or a child's first words.
The VN-702 PC boasts several high-quality audio recording modes. The Olympus VN-702PC captures stereo sound with an optional accessory external condenser microphone and can record in both MP3 and WMA formats. The Variable Control Voice Actuator (VCVA) function extends recording time by recording only when the microphone senses sound at the preset level. This function is a significant time-saver, reducing the need to fast-forward past pauses in conversation. The Index Mark setting allows users to pinpoint specific pieces of the audio per file to simplify future searches. The VN-702 PC can hold up to 16 Index Marks per file. After a recording is captured, the slow playback option allows recordings to be played at 25 percent slower than real time, assuring more efficient note taking or transcription. The fast playback is 50 percent faster than real time, allowing users to skip ahead to essential segments.
Key Features
---
2GB of Built-in Flash Memory for Up To 823 Hours of LP Mode Recording
High-Quality WMA and MP3 Recording, Stereo Recording With Optional Microphone
Built-in High-Performance Monaural Microphone
microSD Removable Media Card Slot
Move and Copy Files Between The Internal Memory and a microSD Card
Large LCD Screen
Built-in Stand
USB 2.0 High-Speed Connectivity To Your PC
Scene Select Modes for a Variety of Recordings
Five Voice File Folders With 200-File Capacity Each
Long Battery Life With Two AAA Batteries
Variable Control Voice Actuator (VCVA)
Slow and Fast Playback
Calendar Search Function
Easy Access Controls and Navigation
External EAR and MIC Jacks
System Requirements
---
Windows XP/Vista/7/8 and 10
Works on Mac OS X 10.4 to 10.11
Spare USB Port
We also recommend the FREE Express Scribe software for transcription of your recorded files.
Other Images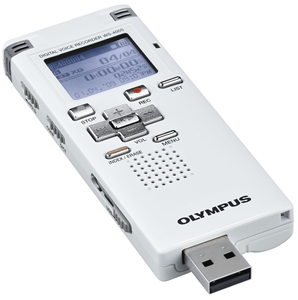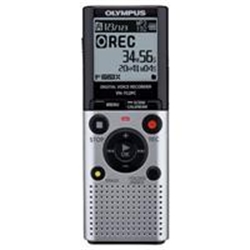 Our Price:

Only $59.95 USD

Product Currently Unavailable