Dragon NaturallySpeaking Legal ver. 11.0
Product Code: SWDGNNSLEGAL | Ships To: World Wide Shipping Available
Out of stock
About this Product
---
Designed specifically for the legal community, Dragon Legal includes a special language model to help you achieve optimal out-of-the-box accuracy when dictating legal terms, automatically formats legal citations, and offers third-party correction features to speed document turnaround and reduce reliance on support staff. Create custom voice commands to build and format document templates. Use your iPhone or iPod as a wireless microphone. Dictate into a digital recorder for additional productivity on the go. Dragon Legal even provides security features, configuration options, and administrative tools for managing large user networks.
Key Features
---
Up to 99% speech recognition accuracy right out of the box
Creation of documents, reports, spreadsheets, or messages just by speaking
Ability to compose emails or search the Web for information faster than ever with Dragon Voice Shortcuts
Nuance Text-to-Speech technology that reads on-screen text in human-sounding synthesized speech
Dragon Voice Shortcuts that let you create email, schedule appointments, and search your desktop using simple voice commands
Creation of custom commands for inserting frequently used text and graphics or automating routine data entry
Ability to use Dragon with a Nuance-approved digital voice recorder and automatically transcribe your recorded voice
Support for multiple audio input devices; use Dragon with a wireless microphone, including Bluetooth
Support for Microsoft Word, Microsoft Excel, Microsoft Outlook, Internet Explorer, and virtually any other Windows application
Audio playback of your dictation with the associated transcription highlighted on the screen for easier proofreading and correction
Ability to import/export custom word lists that can include commonly used proper names or industry-specific terminology
Preconfigured vocabulary that includes more than 30,000 legal terms Third-party correction features
Dragon Voice Notations feature that allow the speaker to make side comments that are saved as part of the recorded dictation but do not appear as part of the transcribed text
Support for custom voice commands to quickly insert frequently used text and graphics
Administrative security options to enable only select users to modify vocabularies; add/modify/create custom commands; and view/edit/export custom commands
Dragon profiles centralized on the network ("Roaming" configuration)
Ability to create AutoTranscribe Folder Agent
Remote management of word lists, custom commands and vocabularies (Nsadmin.exe and Data Distribution Tool wizard)
MSI installation.
System Requirements
---
Windows XP/Vista/7/8 and 10
CPU: minimum 1 GHz Intel® Pentium® or equivalent AMD processor or 1.66 GHz Intel® Atom® processor. We recommend 1.8 GHz Intel Dual Core or equivalent AMD processor. (IMPORTANT: SSE2 instruction set required) • Processor Cache: minimum 512 KB. We recommend 2 MB.
Free hard disk space: 2.5 GB (3.2 GB for localized non-English versions)
RAM: minimum 1 GB for Windows XP and Windows Vista, and 2 GB for Windows 7 and Windows Server 2003/2008. We recommend 2 GB RAM for Windows XP and Windows Vista, and 4 GB for Windows 7 and Windows Server 2003/2008 64-bit.
Microsoft Internet Explorer 6 or higher
DVD-ROM drive required for installation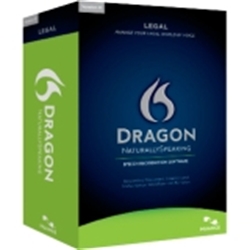 Our Price:

Only $799.95 USD

Product Currently Unavailable