USB Guitar Link
GTUSBADA - World Wide Shipping Available

Already have a great electric guitar and want to record direct to digital?

Plug in your favorite guitar and turn your PC or Mac OS X computer into a guitar amp and recording system without the need of any other hardware.

This USB interface is all you need to connect your guitar to your computer. It comes with the same great software package as the USB electric guitars above.
Features:
Works directly with your PC or Mac OS X computer - ultra low latency ASIO drivers for PC included
Stereo headphone output lets you jam with your computer, or listen with active monitor speakers
Variable-speed playback function for MP3, WAV and AIFF audio files - perfect for learning and practicing
Powered by USB - no additional power supply required
High quality components and exceptionally rugged contruction ensure a long life
Use MixPad Multitrack Production software for track recording and mixing
Edit audio with WavePad Audio Editor for Windows and Mac OS X
Includes "Guitar Combos" software - the leading authentic guitar amp and stomp box modeling software
Also includes Kristal 16-track music production and Audacity editing software
USB Interface Device Specifications:
Guitar In connector: 1/4" TRS, input impedance 250kohm / 400kohm
Phones Out connector: 1/4" TRS stereo jack, output impedance 50ohms
USB 1.1 connector: type A
Digital Processing: 16-bit converter, sample rate 32.0/ 44.1/ 48kHz
Power Supply: USB connection 5V, 100mA max
Cable length: approx. 6" (150mm)
Dimensions: approx. 1" x 3.8" x 2" (25mm x 96mm x 51mm)
Weight: approx 0.2 lbs (0.1 kg)
System Requirements:
PC: Pentium 700MHz with 256MB RAM/ Athlon XP 1.33GHz with 256MB RAM
Mac: G4 733MHz with 512MB RAM
One available USB1.1 or later port
1GB free HD space
CD-ROM drive (For software installation)
Microsoft® Windows XP(SP2)/ Mac OS X v10.3.x
CD or DVD Burner for recording CDs or DVDs if required
USB Interface Device Package Includes:
USB Interface Device
Installation CDs (including music software)
Installation Guide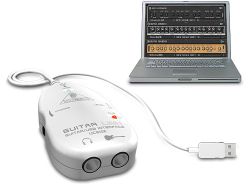 Computer is for illustration purposes only,
not included with USB interface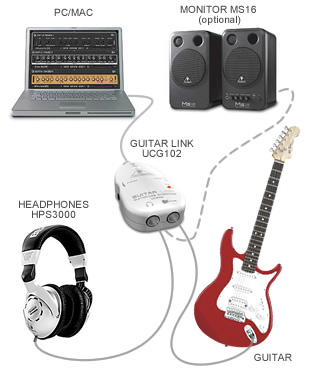 Computer, guitar, headphones and speakers are for
illustration purposes only, not included with adapter